JamFest 2000!!
May 26-28, 2000

---
For the weekend of May 26-8 this year, 1742 or so young people (mostly from Scouting and Guiding, of course) converged on Greenwood Conservation Area for a final blow at JamFest, the largest camp in North America. 5th Markham's famous camp went out with a bang, providing yet another weekend of sun, fun, friends, fire, music, and duct tape, not to mention lots and lots (and did I say lots? and lots) of chocolate pudding. These are just a few pics from our group, nothing official. If you want to see official, however, check out The Official JamFest Site. These shameless self-promoters, who we've all come to know and love, are sure to have tons of pics of the action.
---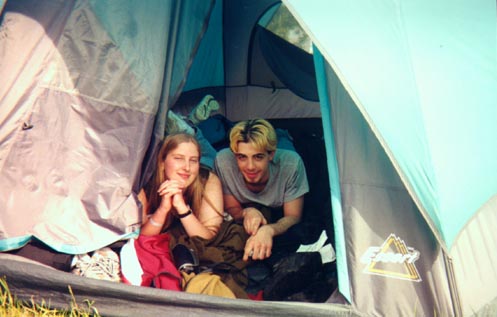 Me and Mike, just hanging out in the tent Saturday afternoon. Thanks for this one, Lisa.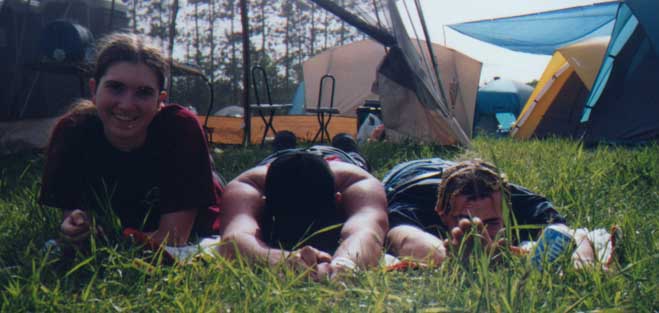 L-R: Lisa, Burp (aka Aaron), and Mike.
Just relaxing after a long day of fun. *phew* that was exhausting! :-)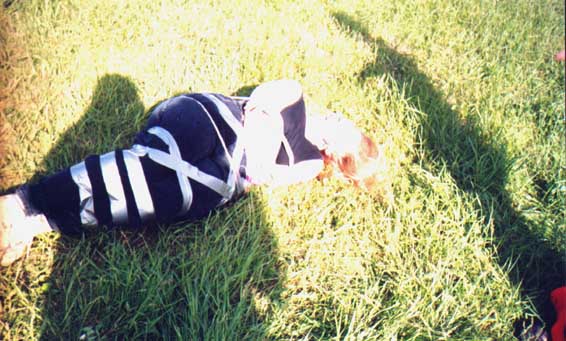 This is what happens when I let someone tape my hands together... watch your back, Scott... you're next. It'll happen when you least expect it. BWA HA HA HA HA!!!
Oops, I've said too much already.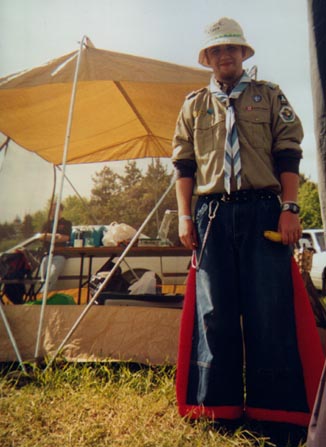 Timmy (the tooth), armed and ready with a banana. Gotta love those pants!
This is one of Lisa's pictures, but she was nice enough to share her doubles. Thank you!!!
*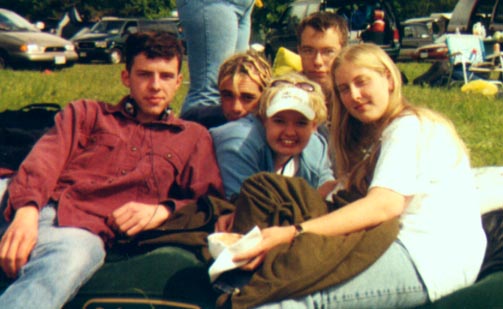 L-R: Brian, Mike, Jacquie, James, and me.
Just getting friendly on the air mattress on Sunday morning. :-) Thanks Lisa!
At the moment, this also happens to be the only half-decent picture I have of Brian.... I'm working on it.... but isn't he cute?!? (heehee, ok, so it's not a very good picture, but it'll have to do for now)

---
That's it for the moment, more later...? Maybe, maybe not. If I get any more good pics from people, they'll be here. And I'm still deciding on that other one... but it probably won't make it to here. Oh well. *shrugs*



This page added June 5 / 00, last modified January 30 / 01.

That's it! Now, go back to the main menu OR go back to the scrapbook.
Or, you could just go away. Your choice. <g>
BWA HA HA HA!
hee hee, you think you're smart, sneakin' around, lookin' at my evil plans? ok. ;-)
What, you got a problem or something? sheesh... notify the web-mistress