Vienna
---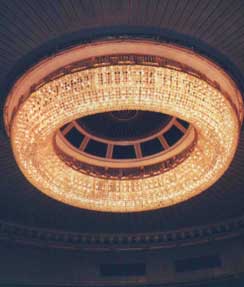 This is the chandelier that lights the Vienna Operahouse. Carrie and I were both mesmerised by it, but I just can't put into words the reason why. Partly because it's so massive, I guess, and that it has the appearance almost of being one solid shape, rather than simply the combination of thousands of smaller shapes. The work that must've gone into that...
---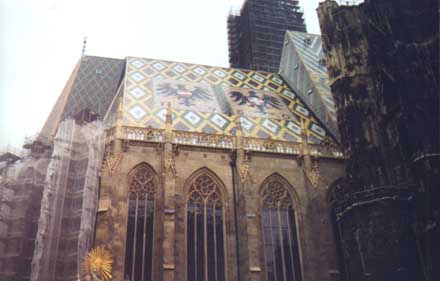 The roof of the St. Stevensdom in Vienna. Yes, they're doing cleanup on it (scaffolds on the left), but you just have to look at the condition of the tower on the right to see why. These thing need cleaning every couple hundred years, y'know.
Thanks to Lindsay for this one.
---
This is the "official" group shot, taken in front of Shoenbrunn (sp?) Palace. I think it's still missing people... oh well. We're mostly there. I'm back row, right end (like you can see that anyway).
Suprise suprise, it's one of Sloan's pics. Thanks.
---
This is a rather unofficial looking shot of the entire group, and a rather sharp contrast to the previous one. That's a museum behind us - I can't remember the name of it, but it's Vienna's main art gallery, I believe. (We did go inside, and I do have it written down, but I'm too lazy to check right now.) Beside it is a building that's it's mirror image, containing the museum of natural history or whatever it's called. Nice place.
Thanks to Sloan for this one.
---
This is just an excellent picture of G (aka. Mr. Goddard) and the hat he wore for much of the trip. Sloan's got a knack for catching people just being themselves, and that's why I like this pic so much. heehee, gotta laugh at that goofy grin, you never know what's going on in his mind!
Thanks Sloan!
---
This is just a cool looking statue - at least to me. It must have meaning, or it wouldn't be there. I just saw the pic in Sloan's album and thought it looked cool. I don't remember even seeing it, but from the half-a$$Ed construction barriers, it must be near the Opera House.
Thanks Sloan.
---
Ok, this one I DO remember seeing. Really! It was a group of anti-racism protestors, as you can see from the sign on the left. Mainly I like the pic because that guy with the shopping cart has cool hair, and the sign adds character. They mostly walked along with music and stuff... not a huge demonstration, but enough to get noticed. :-)
Thanks to Sloan for this one.
---
They told us what this meant, but, yet again, it's now 3 months later and it's gone from my mind. If anyone knows, please remind me, I am actually curious. There's just so much information flying all the time that most of it just flies in one ear and out the other, unfortunately. And I wasn't about to write down everything the tour guide said. But I remember something about it being modern art, and how they call it the golden cabbage. *shrugs*
Thanks to Sloan for this one.
---
The Beethovenhaus
The following are just some cool pictures Sloan took when we had a group meal at a place he referred to as the Beethovenhaus - a nice restaurant, serving local food, and having some special connection to a winery. We had a blast that night! Here goes:

Just goofing around! That's Katie on the left, and Megan on the right. A pretty good pic of each of them...
---
Ok, ok, everyone thinks I was either falling alseep or drunk at this point - let me tell you right now I was neither!! Well, ok, maybe it was actually a combination of the two and my head cold. I'd ordered a small mug of wine with dinner, and still had most of it left at the end of the meal. So, figuring we'd be leaving soon, I decided not to waste it, instead drinking it fairly quickly (not chugging it, i made that mistake later, oops). Of course my face and ears went red, and my sinuses felt even worse, and I just wanted to sleep... so of course Sloan took a picture of me. arg him...
---
Well, after dinner there was the entertainment... a guy with a guitar or something and another guy with an accordion. They were great!! Yeah, yeah, it was polka music, but it was fun! Then a few of these Asian guys came in and joined the party, and man did they ever like Curtis!! heeheehee...
---
Intro -&gt Prague -&gt Vienna -&gt Ried -&gt Salzburg -&gt Fuschl -&gt Wrap-up
---
go back to the main menu OR go back to the scrapbook.
Or, you could just go away. Your choice. <g>

This page last updated June 29, 2000.
Comments? Curses? write me.