Ried im Innkreis
---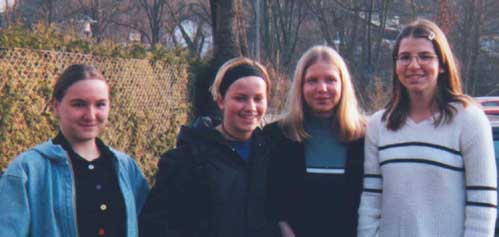 These are a few of the girls that played host to people from our group. I don't know all their names (I know, I know, for shame) but the one second from the left, the one with the headband, that's Agnes. The others were nice too, I just don't know their names. This was taken just before we left.
---
After our first night in Ried, our choir and a few members of the host choir travelled by bus to Passau, Germany, for a private showcase and performance of the world's largest pipe organ. The organist was retiring soon, within a month or something... he was really really nice. After playing the highest and lowest notes (the lowest was 16Hz!) he played us a couple of songs. I didn't recognize the first one, but the second one was an *amazing* performance of Bach's Toccata... and I had my back touching the wooden casing beside one of the largest pipes - boy did that feel cool.
But I'll stop babbling about that now. ;-)
Thanks to Sloan for this one.
---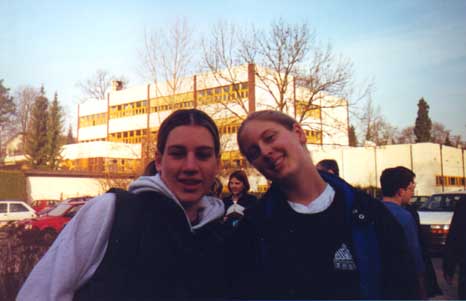 Karri and me in the parking lot of the school in Ried. That's the school in the background. Pretty small by our standards, but it works for them.
Thanks to Lindsay for this one.
---
Intro -&gt Prague -&gt Vienna -&gt Ried -&gt Salzburg -&gt Fuschl -&gt Wrap-up
---
go back to the main menu OR go back to the scrapbook.
Or, you could just go away. Your choice. <g>

This page last updated June 29, 2000.
Comments? Curses? write me.