Fuschl am See
---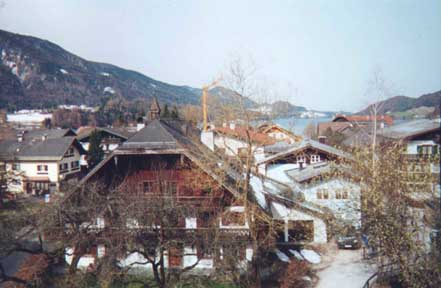 This is the view from the window of my hotel room in Fuschl. It was beautiful - especially at night. Stars, streetlights. And, off in the distance, lights from the village across the lake. I just had to spend some time sitting in the window, gazing out into the night, it was too gorgeous to ignore. Especially after being inside all evening, I'd nearly forgotten we were in a different country. It was only when I decided to glance out the window before going to bed that I realised what I'd been missing.
---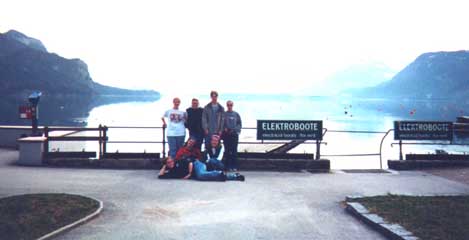 A lake near the base of the mountain. I wouldn't have scanned this pic in - it's an ok pic, but not really interesting - except for the sign to the right of our little group. "ELEKTROBOOTE". heeheehee, I just love that word! (Say it with a long "e" on the end - it's probably not the correct way to pronounce it, but it's the way I say it and the reason it amuses me so. :-))
B: me, Karrie, Geron, Lindsay --- F: Anne, Jenn --- Lying down: Lydia
---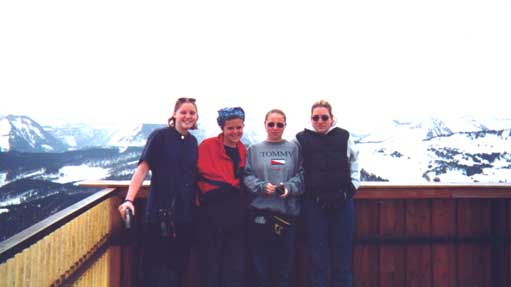 Carrie, Anne, Lindsay, and Karrie on the mountain. We were about 2km up above sea level. Strange, there was so much snow up there, and it honestly *looked* really cold... but a few of us (including Carrie and me) were dressed in t-shirt and jeans, and weren't cold at all. And the snow was about a foot deep on the walk to the peak, too!
---
A bunch of our group climbing to the peak of the mountain. hmm, maybe this was *after* the paraglider jumped... or maybe not. :-)
Thanks to Sloan for this one.
---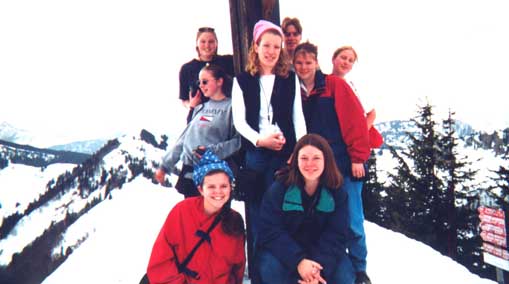 Carrie, Jenn, Geron, Kristen, me, Linda, Anne, and Lindsay, at the peak of the mountain. That's a cross Jenn's leaning on - most of us are touching it in some way - we didn't want to fall, as it was quite steep. This is one of my favourite pics from the whole trip. It really has everyone in a moment when they look like themselves, rather than just a bunch of people standing together. :-)
---
Jen and G look on as Anne, Kristen and I build a snowwoman on the mountain. See below for the finished product.
Thanks to Sloan for this one.
---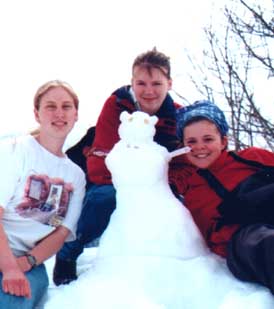 Me, Kristen, and Anne built a snow woman on top of the mountain, and named her Isabella. Her eyes and arms and ears, as well as the pins on her chest, are just stuff we had in our bags... and yes, we took them out and brought them back down with us. No littering. :-)
But man, you shoulda seen the cleavage on that snowwoman. A real work of art, I tells ya.
Thanks to Steph for this one.
---
Intro -&gt Prague -&gt Vienna -&gt Ried -&gt Salzburg -&gt Fuschl -&gt Wrap-up
---
go back to the main menu OR go back to the scrapbook.
Or, you could just go away. Your choice. <g>

This page last updated June 29, 2000.
Comments? Curses? write me.